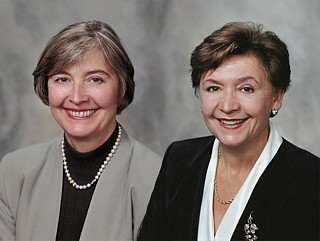 Alice and Maria Team
Senior Sales Associate Brookline/Newton Office
617-566-8379
About Alice and Maria Team
As successful entrepreneurs for over 25 years, Alice Norton and Maria Pazmany have been an enviable real estate team since 1984.
Possessing more years of experience than almost any other brokerage team in the market, they also have accumulated management and leadership skills from operating their own brokerage firm, Forum Associates, from 1984 to 2000. Completing over 500 transactions in the greater Boston area, they have accumulated a wealth of connections and referrals that benefit clients and get results. "A powerful network and our self-driven tenacity benefits everyone," say Alice and Maria "and is the key to our success."
As sisters they have a strongly-bonded working relationship that provides enhanced attentiveness and seamless communication with clients. Together they bring high professional standards, sharper negotiating skills, committed loyalty, and comprehensive marketing knowledge. This, coupled with their enthusiasm, warmth, and confidence, provides cutting edge service to buyers and sellers who consistently remain loyal to their winning expertise.